Volume 2022 Edition 4
Welcome to the April 2022 Broker Report. CRMLS is broker-driven. We work to keep our brokers as informed and up-to-speed as possible. This information is available for you to share with your agents and office staff.
The Clear Cooperation Policy ensures equal access to property listings
Here's a refresher on what it is and how it helps you
This May marks the two-year anniversary of CRMLS implementing the NAR-mandated Clear Cooperation Policy.
Clear Cooperation (or CCP) is one of our most important rules. The consequences for violating it can be severe, including citation penalties of at least $500 per offense. Even so, many agents and brokers have informed us that they feel like they don't fully understand the policy. If you feel like you don't have a complete grasp of CCP, don't worry – you're not alone!
We're here to help you feel confident that you understand not just how our rules function, but why they exist. Here's a brief refresher on the Clear Cooperation Policy.
What is the Clear Cooperation Policy?
The Clear Cooperation Policy is a NAR-mandated policy that nearly every MLS in the country follows and enforces. To paraphrase, it says that every listing that brokers and agents market to the public must go into the MLS no more than one business day after the first day they market it.
We include CCP in the CRMLS Rules and Regulations as Rule 7.9. Click here if you want the full, legal definition.
CCP is, on paper, as simple as an MLS policy can be. We know that the real world is much more complicated! How do we define "marketing," or "the public," or a "business day?" Are there exceptions? What if my seller says no?
We have answers to all these questions. Let's start with the spirit of the rule.
Why do we have the Clear Cooperation Policy?
Two words: Fair Housing.
The MLS facilitates cooperation between real estate brokers. We're here to make sure of two things:
Your buyers can see all the properties in a market, and
Your sellers get the attention of all potential buyers on their property.
This country has a long history of discriminatory housing policy. The U.S. government has made it clear that the best way to prevent housing discrimination is with an open, transparent market – not one full of "pocket listings" and other methods of selling homes only within specific, off-market groups. When a broker excludes qualified buyers from the opportunity to compete for a home, the market becomes less transparent regardless of intentions.
CCP encourages equal access to housing. If you meet the requirements to buy a home, but the fact that you don't belong to the "right group" means you can't see it, it doesn't matter why the "right group" excludes you. What matters is that you lose an opportunity that you should have had. We all benefit when people who break the rules face opposition. The Clear Cooperation Policy exists so brokers can hold each other accountable. The MLS is the best way to enforce this accountability.
What if my seller doesn't want to promote through the MLS?
As much as we value a fair and open market, we don't intend to override the wishes of the sellers who have important reasons for keeping their listings out of the MLS. Ultimately, sellers decide what to do with their property, including keeping it out of the MLS for a short time or for the entire period of the listing agreement.
CRMLS has mechanisms in place to accommodate these sellers.
If your seller does not want to market the listing to the public, we accommodate them through the Registered Listings service in your Listing Toolbox. Learn how to exclude listings from the MLS via the Registered process with this CRMLS Registered Listings guide.
If your seller wants you to pursue limited public marketing, you can use the Coming Soon status in all MLS systems. Learn more with our guide to Coming Soon.
What if my seller doesn't want to promote through the MLS?
We can't answer every question about CCP in one email. That's why we built this resource library:
We also have a dedicated Clear Cooperation Policy page for answers to FAQs, detailed explanations, and a method to report violations of the rules.
We're proud to enable an open, transparent real estate market as your MLS. Please contact us with any questions – we're here to help!
---
It's never a good idea to share property photos without consent
In recent months, we have received numerous reports of buyer agents taking photos of listings at open houses and broker opens. Please be aware that, in many cases, this violates CRMLS Rules.
We take these issues very seriously. CRMLS's rules on listing media are in place to protect you and your fellow real estate professionals from potentially massive monetary liabilities. Read our recent blog for a two million dollar example, or watch this video on our media policy:
If you share photos, videos, or any other media from any other broker's open house publicly – including on your social media accounts – you have likely just broken MLS rules. (Privately sharing media with an existing client does not break any rules.)
The CRMLS Rules include this language in Rule 12.8:
"Advertising of Listing Filed With the MLS. A listing shall not be advertised in any media including the Internet by any Participant or Subscriber, other than the Listing Broker, without the prior consent of the Listing Broker except as provided in Section 12.16 relating to display of listings on the Internet."
This means that you may only post property photos of other brokers' listings with their prior consent. You need this consent regardless of how you represent your relationship to the listing. Even if you credit the listing broker or accurately state that you are not the listing broker, nonconsensual listing media still violates MLS rules. (Per CRMLS policy, misrepresenting another broker's open house listing as your own carries a $1,500 fine with no warning.)
---
Important Broker Resources
Brokers can jump ahead of the wait time for MLS assistance by calling our Broker Support Line at 909-859-2043.
Please note, you must identify yourself by your broker or broker/office assistant MLS ID, as not all user classes have access to this service. For a list of MLS user classes that can access the Broker Helpline, see the last column of our User Classes document.
---
Compliance Corner 
---
Enhancement & Product Corner
Flex
Member Experience Tip of the Month: Keep an eye on your market area(s) with the Hot Sheet gadget
Use your Hot Sheet in Flex to keep up with Daily Market Changes in your area(s).
To set it up: Start with the Hot Sheet gadget > click the three-dot menu > click Settings > enter Criteria > click Save. This will allow you to keep an eye on daily market changes in your area(s).
Here is a quick video tutorial with step-by-step instructions on how to manage Flex Gadgets like this one.
Enhancement & Product Corner
---
Matrix
Member Experience Tip of the Month: Keep an eye on your market area(s) with My Favorite Searches
Use your Favorite Searches in Matrix to keep up with important searches and stay up to date with any new or updated listings that match your Favorite Search.
To set them up: Start with Search > enter Criteria > click Results > click Save > select New Saved Search > add Search Name > select Contact (optional) > check box to Enable as Favorite Search > click Save. Monitor My Favorite Searches for new and updated listings by clicking on Update All daily.
Here is a Quick Reference Guide for step by step setup instructions.
---
Paragon
Member Experience Tip of the Month: Maximize your time by retrieving searches with Saved Searches
Save a search in Paragon for easy access to important searches, including the ones you perform most often.
To set one up: click Search > select Class Search > add search Criteria > click Save Search > enter Search Name for Yourself or Contact > click Save. You can easily retrieve and regenerate a Saved Search.
Updates on Paragon Connect
Paragon Connect is now available from your Paragon homepage. We recently reintroduced Paragon Connect, an easy way to bring your Collaboration Center experience to nearly any device. Whether you're using a desktop, laptop, phone, or tablet, Paragon Connect gives you access to the same modern, user-friendly interface.
You can find Paragon Connect in the Resources tab in CRMLS Paragon:
The Paragon update on Wednesday, April 13 included major enhancements, based on your feedback, for both your main Paragon MLS system and Paragon Connect. These improvements include:
Menu Updates
We've improved the Paragon Connect navigation menu to make the most important content easier to find. Here's a side-by-side comparison between the old and new menus, including descriptions of each label:
Reduced drop-down arrow size
Added a line separator
"Dashboard" changed to "Home"
New icon for Contacts
"Member Search" changed to "Members" with a new icon
"My Content" moved to the bottom
Responsive screen sizes on larger devices
Paragon Connect functions on many different screens. Now, when you migrate from your phone to a larger device, the thumbnail view becomes a two-column layout. This allows you to view more listings per page.
You can see the full details of the Paragon upgrade here in our Knowledgebase, along with more information about Paragon Connect.
The Office Compliance Email Address feature is live! Please contact your local AOR to add the correct email address to this field.
Brokers and office managers who use Paragon can now ask AOR staff to add a special new email address to their office information in the CRMLS roster. This dedicated email address allows you to route office-level CRMLS compliance emails to a single address. Contact your Association today to add an Office Compliance Email to Paragon and simplify your compliance communications.
Previously, all these CRMLS compliance emails went to the addresses Designated Broker's set for their own accounts in the MLS roster. With the Office Compliance Email, CRMLS Compliance can send these communications to a different designated address of the broker's choice. Please note, agents will still receive notices and warnings in their roster-listed email accounts.
If you want to use a dedicated address for these office-level compliance emails, contact your Association. In Paragon, only Association and CRMLS staff can update the Office Compliance Email on behalf of brokers.
Why would I use an Office Compliance Email address?
This change lets you separate your usual MLS roster-related Designated Broker emails from your critical CRMLS Compliance notifications. We hope you'll appreciate a cleaner inbox! Plus, keeping a single destination for your compliance-related notifications makes it easier to access, search, and organize this information. Because you can use an address that isn't tied to a single person or position, you can keep everything in one place through personnel changes.
How do I set this email address in Paragon?
Contact your primary Association to choose the email address you want to designate as your Office Compliance Email. Although only Association and CRMLS staff can add or modify this information, the address you designate is the broker's choice.
How do I know if I have the right address in my Paragon Office Compliance Email?
To verify that your Office Compliance Email is correct and present in Paragon, run an MLS roster search with your ID, click your office code in the results page, and check the Office Compliance Email field for the address (see below).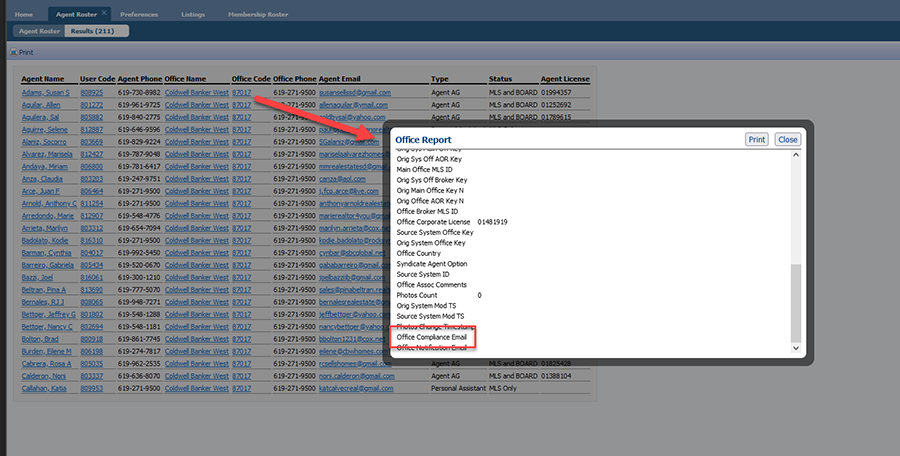 How to work with the new listing cancellation restrictions in Paragon
As of May 25, a rule restricts cancelling a listing to Office Managers and Brokers only. Find instructions to cancel a listing in our Knowledgebase.
You can also use the Assume Identity feature to accomplish this. Brokers can designate office admin or staff to assume identity. Assume Identity is a way for you as an agent or broker to allow a licensed or unlicensed assistant to log into CRMLS Paragon under their own unique login and then "Assume the Identity" of the agent or broker they are working for.
You can be certain that under your login, only you can manipulate your listings. When your assistant logs into Paragon and assumes your identity, there will be a "paper trail" that shows the assistant is logged in under their unique username and password. The "paper trail" will show that, with your permission, the assistant has assumed your identity and made changes to your listings.
Brokers/agents/assistants must belong to the same office and Association/Board of REALTORS® to assume IDs. View our step-by-step guide to give permission to Assume your Identity.
Here is a guide to issues that have been recently resolved and are currently in progress:
IN PROGRESS: We're working to ensure Coming Soon to Active shows as New (with vendor).
IN PROGRESS: Addition of a Change Type for Coming Soon so that it can have its own category on Hotsheets and MarketWatch (with vendor).
IN PROGRESS: Cleanup of City List (being finalized).
Visit your dedicated Paragon Upgrade Resources Center for information.