Welcome to the January 2022 Broker Report. CRMLS is broker-driven. We work to keep our brokers as informed and up-to-speed as possible. This information is available for you to share with your agents and office staff.
An update from our CEO  
As of Wednesday, January 5th, CRMLS no longer sends "Coming Soon" listings to IDX feeds. Websites that use IDX feeds will no longer display or receive data about "Coming Soon" listings.
We've made this change to be more consistent with other MLSs that CRMLS has data share agreements with. Keeping IDX feeds the same throughout CRMLS and other California MLSs prevents data discrepancies and other challenges.
This change came about after discussion, voting, and approval by the CRMLS Board of Directors.
---
Compliance Corner 
Register for our General Session webinars:
---
Enhancement & Product Corner 
Hello, CRMLS members! My name is Miguel Ramos. I am the CRMLS Member Experience Manager. My role is to be the liaison for our membership and identify our members' experiences. Once the good, bad, and ugly are identified, my obligation is to create an action plan that brings improvements to our CRMLS Systems and products. If you or your Agents have a suggestion, complaint, or any feedback please share with feedback@crmls.org.
---
New improvements are now available in Realist 
Based on feedback from real estate professionals like you, Realist has updated its platform with new improvements. Fixes include new maximum exports for search results, better display on mobile devices, and more. These updates are available immediately. You can access Realist Tax through both your dashboard and Matrix.
For a full list of the improvements in Realist, check out our Knowledgebase article.
---
Flex  
---
Matrix  
---
Paragon 
The Office Compliance Email address is live! Please contact your local AOR to ensure this field contains the email address you want CRMLS to use when sending compliance notices to your office. To verify your Office Compliance Email is correct, you can run a roster search with your ID, click the office code in the results page, and view the compliance email address.
MLS listing IDs now feature a new SD suffix in your MLS

You may start noticing that certain listing IDs in your MLS have a new suffix:'SD.' For example: 2200000582SD.
On Januar 1, 2022, San Diego MLS changed its listing ID conventions. This change meant that some new SDMLS listings now use duplicate IDs. The new listing ID numbers are the same as IDs of older listings from our data share partners. Using the same listing ID for multiple listings causes data collisions in the MLS and confusion for real estate professionals who want to find specific listings.
To avoid these issues, we are currently updating IDs for the listings that agents entered in SDMLS between January 1 and January 12. These listings, and all SDMLS listings from after January 12, will appear with the letters 'SD' at the end of their ID numbers.
This change will impact your MLS ID searches in all MLS platforms. See below:
If you are using Power Search…

Searching for a 2022 SDMLS listing ID without the 'SD' suffix in Power Search will return all listings that begin with that listing ID, including the SDMLS listing and an older listing ID from a data share partner. The listing ending in 'SD' is an SDMLS listing from 2022.
If you are using Quick Search…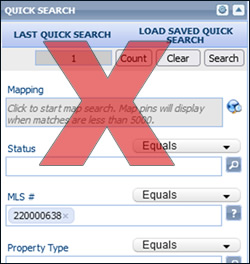 If you don't include the 'SD' suffix in Quick Search, Paragon will only return the listing that exactly matches the number you enter. To ensure you find the right listing, make sure you include the 'SD' ending.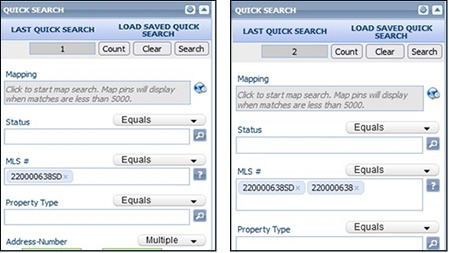 On third-party sites…
Depending on the site, you and your clients may see either the listing ID ending in 'SD' or the listing ID without 'SD.' When you're unsure which ID the site will use, it's best to reference other details for the listing, like its Active date or address.
How to work with the new listing cancellation restrictions in Paragon 
As of May 25, a rule restricts canceling a listing to Office Managers and Brokers only. Find instructions to cancel a listing in our Knowledgebase. You can also use the Assume Identity feature to accomplish this. Brokers can designate office admin or staff to assume identity. Assume Identity is a way for you as an agent or broker to allow a licensed or unlicensed assistant to log into CRMLS Paragon under their own unique login and then "Assume the Identity" of the agent or broker they are working for.
You can be certain that under your login, only you can manipulate your listings. When your assistant logs into Paragon and assumes your identity, there will be a "paper trail" that shows the assistant is logged in under their unique username and password. The "paper trail" will show that, with your permission, the assistant has assumed your identity and made changes to your listings.
Brokers/agents/assistants must belong to the same office and Association/Board of REALTORS® to assume IDs. View our step-by-step guide to give permission to Assume your Identity.
 Here is a guide to issues that have been recently resolved and are currently in progress: 
IN PROGRESS:

We're working to ensure Coming Soon to Active shows as New (with vendor).

IN PROGRESS:

Addition of a Change Type for Coming Soon so that it can have its own category on Hotsheets and MarketWatch (with vendor).
IN PROGRESS:

Cleanup of City List (being finalized).
Visit your dedicated Paragon Upgrade Resources Center for information.