Welcome to the September 2021 Broker Report. This information is available for you to share with your agents and office staff. Visit the COVID-19 webpage to view resources for you and your agents on any modifications to how you do business.
---
Compliance Corner
Register for our General Session webinars: 
---
Changes to CRMLS's IDX Listing Credit Rules
One of the most important changes, designed to benefit both real estate professionals like you and your clients, is an update to how agent and broker IDX websites display your MLS data. The newly updated rule reads:
12.16.5 Listing Credit. All Listing Brokers grant permission for any Advertising Broker to display any listings submitted to the service by the Listing Broker only if the listing display or advertisement is clear so that a reasonable real estate consumer understands:
Who is the Listing Agent & Broker,
Who is the Advertising Broker and
How to contact that Listing Agent or Broker.
Read our press release for a full explanation of what these rule changes mean for you. Please read this FAQ in our Knowledgebase for detailed answers to common questions. You can find additional resources such as webinar recordings on our dedicated IDX Resources webpage.
---
Enhancement & Product Corner
The "Submit Offer using Glide" button returns, but with BROKER CHOICE
At your discretion, agents can prepare to streamline the process from offer to close at no additional cost
Glide's "Submit an Offer" button will re-launch on Tuesday, 10/12. There are a few key differences from the first launch, including brokers' ability to opt out starting Tuesday, 10/5, if they choose.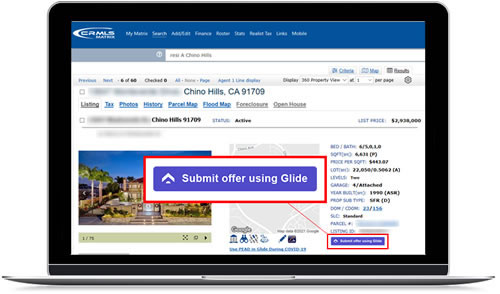 We are hosting a Broker/Office Manager preview webinar on Tuesday, 10/5 at 2PM. Learn about the "Submit Offer Using Glide" button returning to your MLS system, and how to opt out if you choose.

You may recall that we launched the "Submit Offer using Glide" button earlier this year, only to shortly remove it. After Compass acquired Glide, we decided to roll back on our launch until we conducted a survey of 4,000+ CRMLS users. We asked them for their thoughts and feelings on the "Submit Offer using Glide" feature, particularly post-acquisition. After the survey concluded and we considered the responses, we decided to not re-launch until we provided a mechanism to allow brokers the choice to opt out.
As the Broker, you will have the choice
At the re-launch of the "Submit Offer using Glide" button, CRMLS will provide you, the broker, with the choice to opt-out. This feature will be set as "opt-in" by default. As of 10/5, you can visit the Glide page in the Listing Toolbox (see icon below) to opt out, if you choose.



If you choose to remain opted-in, then you and your agents can click on the "Submit Offer Using Glide" button on a search landing page within your MLS and be seamlessly directed into Glide.
If you choose to opt out, then you and your agents will see a message when you click on the Glide "Make an Offer" button explaining that the broker has chosen to opt out.
How the Glide "Submit offer using Glide" button can help you
Clicking on the "Submit offer using Glide" button/feature in Matrix will take you directly to Glide's seamless, end-to-end offer management. All the necessary forms are there waiting for you, preloaded with information from your MLS, with important signature lines and key dates already highlighted.
Glide also organizes incoming offers from any source, so that you can easily compare them side by side and present them to your clients.
Stay tuned for additional communications on this re-launch!
---
Flex
---
Matrix
---
Paragon
How to work with the new listing cancellation restrictions
As of May 25, a new rule restricts the power to cancel a listing to Office Managers and Brokers only. Instructions to cancel a listing can be found in our Knowledgebase. You can also use the Assume Identity feature.
Brokers can designate office admin or staff to "Assume Identity." Assume Identity is a way for you as an agent or broker to allow a licensed or unlicensed assistant to log into CRMLS Paragon under their own unique login and then "Assume the Identity" of the agent or broker they are working for.
You can be certain that under your login, only you can manipulate your listings. When your assistant logs into Paragon and assumes your identity, there will be a "paper trail" that shows the assistant is logged in under their unique username and password. The "paper trail" will show that, with your permission, the assistant has assumed your identity and made changes to your listings.
Brokers, agents, and assistants must belong to the same office and Association/Board of REALTORS® to Assume Identities. View our step-by-step guide to give permission to Assume your Identity.
Here is a guide to issues that have been recently resolved and are currently in progress:
IN PROGRESS:

We're working to ensure "Coming Soon to Active" shows as "New" (with vendor)

IN PROGRESS:

Addition of a Change Type for Coming Soon so that it can have its own category on Hotsheets and MarketWatch (with vendor)

IN PROGRESS:

Cleanup of City List (finalizing)
Visit your dedicated Paragon Upgrade Resources Center for information