Welcome to the February 2022 Broker Report. CRMLS is broker-driven. We work to keep our brokers as informed and up-to-speed as possible. This information is available for you to share with your agents and office staff.
An update from our CEO
In light of recent news that a court has held Zillow liable for an estimated $2,000,000 in copyright infringement damages, we want to emphasize to you and your agents that the brokerage community should carefully review all photo and other media licensing agreements.
Brokers must not place media subject to inadequate license agreements into the MLS. Inadequate license agreements include those that contain any limitations on the use of media after marketing of the property stops or any limitation on the ability to sub-license the media.
If you have any doubt about the scope or limitations in a license a photographer provides, CRMLS recommends having a knowledgeable attorney with a full understanding of the CRMLS Rules review the license. Brokers may also choose to use only photographers that appear on the CRMLS Photographer List, as all of them have agreed to provide the MLS-required license. We provide this list on our website and update it frequently: https://go.crmls.org/photographer-list
CRMLS has always taken copyright infringement seriously. As I said in this video on the topic from 2018, even a single infringement can exponentially impose liability on everyone in the MLS.
The CRMLS Knowledgebase contains more detailed information about using professional photographs. You and your agents are welcome to contact Compliance with questions during live chat hours, Monday-Friday 8:30 AM – 4:00 PM, at https://go.crmls.org/compliance.
In addition, we want to remind you to check out our Coastal Mendocino Resource Center. We've made some updates, including a few important clarifications to our FAQs about the transition.
Questions? We're here to help! The CRMLS Customer Care phone number is (800) 925-1525. You can also chat with a representative or submit a ticket online by visiting CRMLS.org/Support.
Brokers can jump ahead of the wait time for MLS assistance by calling our Broker Support Line at 909-859-2043.
Please note, you must identify yourself by your broker or broker/office assistant MLS ID, as not all user classes have access to this service.
---
Compliance Corner
Citation Policy Review
Here's a friendly reminder to review and familiarize yourself with the CRMLS Citation Policy. The Citation Policy keeps the MLS data accurate and up to date while ensuring a level playing field for all CRMLS users. The Citation Policy provides rule numbers to identify each violation, summarizes the nature of each violation, notes which rules are or are not eligible for warnings, and provides the fine amount associated with each violation. The Citation Policy also outlines the Citation Review process. You can access the Citation Policy on our webpage.
Avoiding Broker Citations
Maintaining accurate information and cooperating with CRMLS Compliance is the responsibility of both the Listing Agent and the Office Manager/Listing Broker. The Compliance department copies Office Managers (if appointed) or the Broker of Record, plus the Association, on all notices it sends to Listing Agents. If the Listing Agent fails to correct a violation, the Office Manager or Broker of Record is subject to a citation and fine for failing to supervise under rule 14.4. To avoid a citation, Office Managers and Brokers of Record should follow up directly with Listing Agents regarding communications from CRMLS Compliance. This includes warnings or citations that the Listing Agent may receive, as well as any violations that they have not yet corrected.
---
Member Experience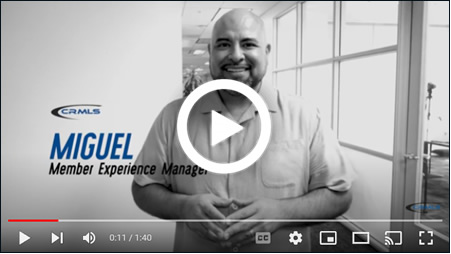 Hello, CRMLS members! My name is Miguel Ramos. I am the CRMLS Member Experience Manager. My role is to be the liaison for our membership and identify our members' experiences. Once we identify what we're doing well and what we need to improve, our obligation is to create an action plan that improves our CRMLS Systems and products. If you or your agents have a suggestion, complaint, or any feedback, please share with feedback@crmls.org.
Tip of the Month
Use your hot sheet as a daily tool to help you never miss a beat with daily market changes in the communities you serve. Start today and learn how to create hot sheets in Flex.
---
Enhancements & Products
You can now see all California real estate tax data in Realist. When we at CRMLS began managing your MLS, we made it our priority to find new ways to meet your needs. We're happy to inform you that you and all other Coastal Mendocino AOR members can now see data from every California county in Realist Tax.
Before this improvement, your Realist system would only display tax data from three counties. Now it can do this for all 58. To see other counties' tax data, just click on "Change County" at the top left.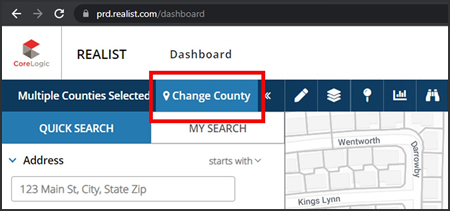 Clicking on this option will display a list of every county in California. Select whichever county's data you want to see, and in a matter of seconds, you can find what you're looking for.