Volume 2022 Edition 8
Welcome to your Broker Report. CRMLS is broker-driven. We work to keep our brokers as informed and up-to-speed as possible.
VentureMLS Announces Strategic Investment in SaavyCard, Chooses RE-Target to Enhance User Engagement
Venture MLS, the first VC firm created by a multiple listing service, has announced a strategic investment in SavvyCard®, an innovator in real estate marketing, lead generation, and targeted advertising. This investment concurs with an announcement from California Regional MLS, the nation's largest multiple listing service, which is adopting SavvyCard's RE-Target® product for its base of over 110,000 users.
The investment from Venture MLS will support SavvyCard as it builds toward meeting the high market demand for RE-Target®, its managed advertising solution. CRMLS and SavvyCard will collaborate to provide MLS users with feature-rich tools to communicate and engage with local buyers, sellers, and homeowners through SavvyCard's Software-as-a-Service (SaaS) platform.
Click here to read our full press release.
On 8/23, LionDesk will no longer be a CRMLS core product
LionDesk is now a California Association of Realtors® (C.A.R.) member benefit. As of Tuesday, August 23, CRMLS retired LionDesk as a CRMLS core product and redirected your access to the product through the C.A.R. website
What does this mean for me?
CAR members can choose to use LionDesk as a free member benefit. If you send fewer than 250 emails monthly, you will see no change in your service. To send more than 250 emails per month, you will have to upgrade to a paid account.
If you are not a member of CAR, you can explore LionDesk plans and choose the one that best suits your needs.
Where can I find more information?
To learn more about your options visit LionDesk's CAR member-benefit website.
---
Share the CRMLS Compliance Quiz with your office
We recently launched a new CRMLS Compliance Quiz:

The quiz is short, optional, and anonymous. It will be helpful in educating agents about common rules violations, saving you time, money, and stress. We encourage you to share it with your office. We want them to learn common rules and pitfalls here, not through a violation notice.
---
Important Broker Resources
Brokers and managers can jump ahead of the wait time for MLS assistance by calling our Broker Support Line at 909-859-2043.
Please note, you must identify yourself by your broker or broker/office assistant MLS ID, as not all user classes have access to this service. For a list of MLS user classes that can access the Broker Helpline, see the last column of our User Classes document.
---
Compliance Corner 
---
Enhancement & Product Corner
A new rental screening tool starts right from your listing: at no cost to agents and brokers
RentSpree is a secure and reliable tool for navigating the booming rental market – and now, CRMLS users can access RentSpree's screening tool to streamline the process.
Now when you input a rental or lease listing, you can opt into RentSpree's application screening. You'll receive a unique RentSpree ApplyLink™ in your email and on your rental listing, in all agent residential lease reports, and in client notifications.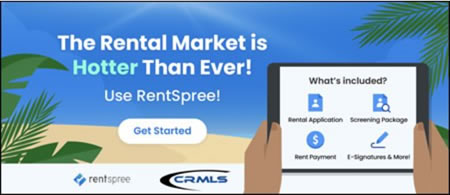 Potential applicants can use this link to access the RentSpree online screening, which includes an application, credit report, background check, and access to info on eviction-related proceedings- all at no extra cost to you (however, your client will be required to pay a $38 application fee).
Be sure to check out our knowledgebase for more about the RentSpree ApplyLink™, and click here to start using the RentSpree screening process today.
Flexmls
Share Listings via Text Message on Flexmls Desktop
In this fast-moving real estate market, it is crucial to have the means to communicate with your buyers fast and easily. Available now, you can share single or multiple listings from Flexmls Desktop to homebuyers via text message. View our step-by-step guide to learn more.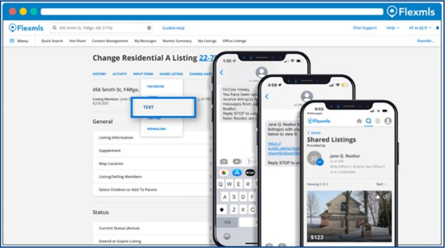 Member Experience Tip of the Month: Customize Your Favorites Menu
Did you know you can quickly add and organize your most frequently used Menu items to your Favorites bar? View our quick reference guide to customize your Favorites.
Matrix
OneHome Agent Branding using MLS-Touch
Agents using MLS-Touch and its popular agent branding feature (Brand & Share) will now see their branding extended to the OneHome client portal. Set brand details once and it populates to MLS-Touch's agent-branded app and now to the OneHome client portal as well! This new feature allows agents to customize the homebuyer experience in OneHome, prominently displaying their logo and brand colors throughout.
Review our quick reference guide for step-by-step instructions. Follow these steps to update your office information that is displayed on the MLS-Touch app.
Member Experience Tip of the Month: Check out our NEW Matrix Customer Flyers!
We introduced four new Customer Flyer reports to CRMLS Matrix in March 2022. View our quick reference guide to see examples of these reports, plus a guide on how to access them.
Paragon
Member Experience Tip of the Month: Add Your Office Logo and Agent Image!
Your brand says a lot about you and your business, so take the time to upload your Office Logo and Agent Image. These images can appear on reports, in a CMA Presentation, the membership roster, and the client Collaboration Center. It's your brand – make it visible.
View our quick reference guide to learn how to add your Office Logo and Agent Image.
How to work with listing cancellation restrictions in Paragon
As of May 25, 2021, a rule restricts canceling a listing to Office Managers and Brokers only. Find instructions to cancel a listing in our Knowledgebase.
You can also use the Assume Identity feature to accomplish this. Brokers can designate office admin or staff to assume identity. Assume Identity is a way for you as an agent or broker to allow a licensed or unlicensed assistant to log into CRMLS Paragon under their own unique login and then "Assume the Identity" of the agent or broker they are working for.
Under your login, only you can manipulate your listings. When your assistant logs into Paragon and assumes your identity, there will be a "paper trail" that shows the assistant is logged in under their unique username and password. The "paper trail" will show that, with your permission, the assistant has assumed your identity and made changes to your listings.
Brokers/agents/assistants must belong to the same office and Association/Board of REALTORS® to assume IDs. View our step-by-step guide to give permission to Assume your Identity.
Here is a guide to issues that have been recently resolved and are currently in progress:
IN PROGRESS: We're working to ensure Coming Soon to Active shows as New (with vendor).
IN PROGRESS: Addition of a Change Type for Coming Soon so that it can have its own category on Hotsheets and MarketWatch (with vendor).
IN PROGRESS: Cleanup of City List (being finalized).
Visit your dedicated Paragon Upgrade Resources Center for information.